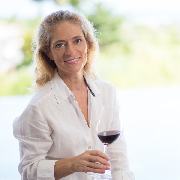 Wendy has lived in Bordeaux for over 30 years, she is a leading Bordeaux wine educator, sharing her passion for Bordeaux through writing, speaking, and welcoming people to the region.
She studied for a winemaker master's in International Agri-Food Marketing in Paris, working there in food marketing for eight years. Marrying a Sauternes wine maker, she moved to Bordeaux and changed cap.
She is passionate about helping people to get behind an often-unrealistic image of what Bordeaux is and how it works, dusting off what can often be seen as an exclusive and unapproachable wine region. She loves nothing more than introducing wine lovers to the people and the place behind the products.
She blogs regularly about the region on the Insider Tasting website and has written two books: Bordeaux Bootcamp, an insider guide to Bordeaux basics, and The Drinking Woman's Diet, a liver friendly lifestyle guide.
A certified yoga teacher her aim is to help women develop a healthy passion for wine.
With her family, she is currently renovating a ruined 16th century Château in the entre deux Mers, to welcome guests on wine and wellness retreats at the very heart of the Bordeaux vineyards.
https://insidertasting.com
Place: Restaurant St Jaques
We will taste 6 wines from Bordeaux that Wendy will chose to broaden our Bordeaux knowledge.
Find out more