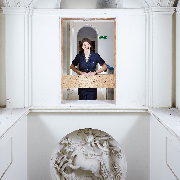 Please join us for a wonderful evening at Pitzhanger Manor and gardens with some English wines and canapes, some beautiful art and a short talk with Clare Gough, the Director. We will be starting at 18:30 at the Pitzhanger Manor and Gallery.
Pitzhanger Manor is an English country villa famous as the home of influential neoclassical architect, Sir John Soane. Built between 1800 and 1804 and sitting in its original parkland, the Regency Manor is a rare and spectacular example of a building designed, built and lived in by Sir John Soane himself. We are choosing English wines in honour of Sir John Soane. Beautifully restored to Soane's original designs, Pitzhanger now houses an art gallery and is only 9 minutes by direct train from London Paddington.
Clare Gough, after working as a consultant at McKinsey, moved to the art world, initially as New Media Director at the National Gallery retail trading arm, before being invited to work for the Director of the National Gallery and becoming its Director of Communications. She then took on the challenge of leading the conservation and re-launch of Pitzhanger Manor & Gallery, opening in 2019 with an acclaimed exhibition by Anish Kapoor. She has also held non-executive charity Board roles and was formerly a Trustee of the Museum of the Home.
Clare will give a private view of Pitzhanger's latest exhibition by rising star Royal Academician, Rana Begum RA, as well as give an insight into the eccentricity of the architecture of Sir John Soane, and the fun of marrying his Regency style with Rana's striking contemporary art. She will also say a few words about transitioning career from the commercial world to the arts, and the challenges and opportunities of running an arts organisation in the current environment.
We will taste some English wines

Find out more